After arrival Thailand with Non immigrant ED visa (student visa)
Immigration rule,
When you enter Thailand, please show Immigration officer that you have an ED visa and you will be given an Immigration stamp; it allows you to stay for 90 days. Every student needs to extend visa and also have to notify your address when you stay in Thailand longer than 90 days at the immigration office.
Present your passport and departure card (TM 6) to the school within 1 week.
We must submit your passport and document to the MOE for request the acceptance letter (2nd letter) which the student have to use for visa extension at the immigration.


If not, we will unable to get a letter for extension visa from MOE.
---
Inform your address and telephone number

We have to put your address and tel.no. in the Immigration forms. If you change it, please inform us.
---
TM 30 is a compulsory of House-owner duty.
House-owner must notify the Immigration when foreigner stays in their house/apartment. After they notified TM30, they will get a receipt. You should request a copy of receipt. If House-owner did not notify TM30, it might be affected on Visa extension, 90 day notification and Re-entry permit.
---
Previous visa
If you ever had "ED visa" or "Working visa", you must cancel it (Cancellation stamp must be showed in passport). If not, immigration-officer cannot extend your visa.
---
Open bank-account
If you want to open Bank-account, it should be in the first 2 month you enter Thailand. Please inform us, we will prepare a document for you.
---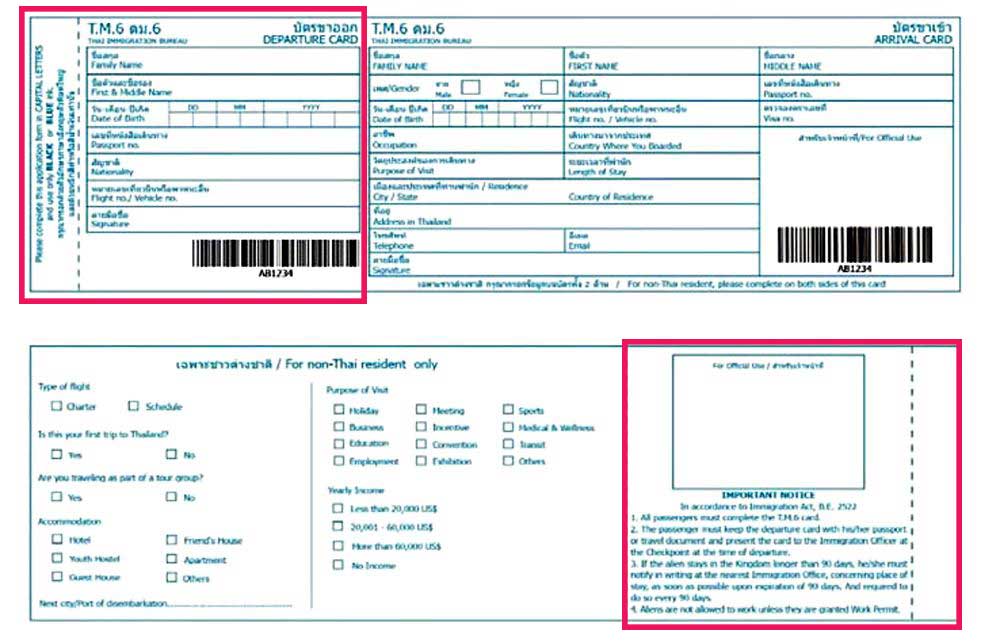 ---
How to extension temporary stay in Thailand
Step 1 Bring your passport and departure card to the school
Please show your passport and departure card before your visa expire 3-4 weeks in advance. The student have to sign on the copy of passport, student record and fill the form TM7
Step 2 Collect the document
You can collect the extension document before your visa expires 1-7 days in advance.
Step 3 Apply for a visa extension
You have to apply for visa extension at Immigration office at Changwattana Road.
Note: The fee is 1,900 Baht each time at the immigration.
Step 4 Show your passport to the school again
---
How to apply for a notification of stay in the Kingdom over 90 days
All foreigners who stay in Thailand longer than 90 days, they need to notify of staying, and also to report to the immigration to register their residences in Thailand every 90 days.
The notification must be made within 15 days before or after 7 days the period of 90 days expires.
The first application for extension of stay by the foreigner is equivalent to the notification of staying in the Kingdom over 90 days
The required documents:
1. Passport
2. Photocopy of passport:
Front page showing name/passport No.
Current visa
Last entry stamp of immigration
Last extension of visa
Departure card
3. Previous notifications of staying 90 days
4. Fill the Notification form TM.47
Note :
- The notification of staying in the Kingdom over 90 days is in no way equivalent to a visa extension.
- If a foreigner staying in the kingdom over 90 days without notifying or notifying later than the set period, a fine of 2,000.- Baht will be collected. If a foreigner who did not make the notification of staying over 90 days is arrested, he will be fined 4,000.- Baht.
- If a foreigner leaves the country and re-enters, the day count starts at 1 in every case.
---
Important : Re-entry permit
During your ED visa period, when you want to travel abroad, you have to make a re-entry permit before leaving Thailand at the immigration office or Immigration check point.
Note: Please inform the school every time when you want to leave and come back to Thailand.